QuestionPro survey software review
Survey software applications are important tools in getting feedback from customer, employees or colleagues. We will continue our survey software reviews with the review of another popular survey software tool: QuestionPro.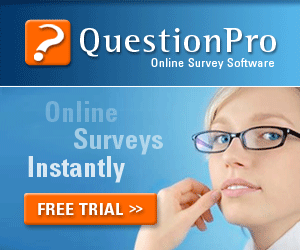 Signing up for a free account is very easy. Confirmation email follows shortly.
Upon signup, you are redirected to the "create survey" screen. There are 3 options:
Create a new survey (from scratch)
Copy a survey from the template library
Import a survey from a word document
Nice thing: the template library contains a lot of questionnaire templates and it's available for the free accounts. There are all sorts of survey samples:
Customer satisfaction surveys
Marketing research surveys
Human resources surveys
Services evaluation surveys
Academic surveys
Community surveys
We will choose to create a survey from scratch.
I would have expected to be sent to a questions editor page, like SurveyMonkey does, but instead a wizard appears:
Over 20 survey themes are available. For paid accounts there is also available the possibility to create a customized url for your survey (something like http://surveyreviews.questionpro.com).
After the create survey wizard is finally finished, the questions editor page appears. We will start adding a few basic questions.
Side note: a lot of popups on the way. As mentioned in the Survey Monkey Review, I am not a big fan of these.
A lot of standard and advanced question types are available. This is a huge plus if compared with SurveyMonkey for example. Also, you have the possibility to copy one of your previous questions (from the current or your other surveys – nice).
The question editor looks nice. There are rich text editors for question text and answer options. Also for the answer options (where appropriate) you can use standard answers (like Yes/No, Rating Scale – poor to excellent, etc).
The questions editor has a lot of options. Once you have a few questions added to your survey, you will see for each of them several customization links:
Edit question
Delete question
Copy question
ReOrder questions
Settings
Preview
You also have the possibility to add new questions, separators, page breaks. Branching is available only for paid accounts.
Taking a look at the questions settings page (see screenshot below) reveals yet other options that can be customized:
Validation
Randomization of answers
Answers orientation, alignments, order, default values
Instructions and tooltips for the question
Size of the question text and answers
One thing I noticed it's not possible to do easily is to add a question at the beginning of your survey. I forgot to add an intro text question, so I wanted to add this type of question before my first existing question and I found that is not possible. I had to add it in the second place and then use the questions ReOrder feature to put it in the right position.
After adding a few more questions, I was able to get a live survey url immediately (unlike with Survey Monkey). Here is the link to our survey:
http://www.questionpro.com/akira/TakeSurvey?id=1200551
Looking more into the survey options, you can see other endless possibilities to customize your survey (some a free, some are available only for paid accounts):
Survey outline (where you can bulk delete your questions)
Display options (where you can change the theme, navigation buttons, progress bar or survey width). With paid accounts you can change the default language of the survey.
Finish options (thank you page, redirect to an url, close window, panel integrations)
Security (password protect the survey, SSL for paid accounts, Save & Continue also for paid accounts, survey status, close date or quota)
Email notifications upon survey completion
Randomization options (randomize all questions in a survey, randomly select one question).
It's time now to take a look at the reporting section. At first sight, lots of options here too:
The real time summary report shows a lot of technical details (called Key Analytics). These might be useful for professional researchers, but for simple surveys, just skip them. It would have been nice to have the option to hide them.
Also another thing I don't like is that in the summary report the open type questions are not displayed. It's a different report available, just for them.
Also, it took me some time to find a list of individual responses, but once I found it, it looks ok.
Other than that, I am impressed in this section also by the multitude of options (reports):
Real-time summary
Participants statistics
Open-end text
Export Data
Cross-tabulation
Report sharing
Customized reports
For paid accounts, other more advanced reports are available:
Grouping/segmentation
Trend analysis
Ad-hoc query tool
TURF analysis
Conjoint analysis
GAP analysis
Things we liked about QuestionPro
Free template library
Unlimited responses for free accounts
A LOT of options to customize
Things we did not like about QuestionPro
User interface is not very intuitive and it's kind of slow (especially in those AJAX popups)
Too many options sometimes (you should use the defaults for simple surveys)
Too complicated reports for regular users. For professional survey researchers I think this should go to the above section (positive things)
For more details about online survey reviews and survey software platforms, visit http://www.survey-reviews.net.